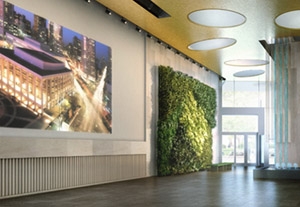 Lincoln Center and Target opened the new David Rubenstein Atrium to the public for a preview of Manhattan's new "vibrant theatrical garden," Nov. 19. In its 50th anniversary season, the New York City performing arts center is furthering its goal of being open to the public as a civic and cultural gathering place, Lincoln Center President Reynold Levy explained at a press conference.
The Harmony Atrium, which Levy characterized as a "dreary, forlorn, virtually unused space," has been transformed with self-sustaining vertical tropical plant gardens, artistic felt installations, a 40-foot media wall, and performance space for free entertainment. The reconceived and renamed Rubenstein Atrium will be a community gathering place with WiFi access, an outpost of Tom Colicchio's 'Wichcraft chain, and the Target Free Thursdays series.
Special guest and 50th anniversary committee member Bernadette Peters highlighted the Rubenstein Atrium's significance for the city. "Lincoln Center has been a source of inspiration for me throughout my career," she said, addressing the press at the community preview. "Do you realize how many young people are going to be inspired here who can't afford to go across the street?"
"We can't think of a better 50th anniversary gift than to open your doors to new fans," said Heidi Weaver, the director of community relations at Target. With the corporation's sponsorship, Lincoln Center will offer free programs at 8 p.m. on Thursdays. According to Weaver, the free performances will be held 52 weeks a year, including Christmas Eve and New Year's Eve, both of which fall on a Thursday this year. "I'm so glad to know I'll have a place to go for New Year's Eve this year!" Peters said.
With the renovation of the Atrium, Lincoln Center hopes to continue providing excellence in entertainment through the privately owned public space. "With all of the seats in our theaters, we are considerably larger than Madison Square Garden and present consistently better seasons," joked Levy. Yet this development is distinct from the changes on the Lincoln Center "campus" around 65th Street, Peters claims. "We eat food to feed our bodies, but we need the arts to feed our souls," she said. The Rubenstein Atrium will begin welcoming the public for both starting Dec. 17. The free performance season will kick off with the atrium's official opening, so that the space can provide entertainment for the upcoming holiday season.
Source : Backstage